| | | | |
| --- | --- | --- | --- |
| | | | |
| DAYS | HOURS | MINUTES | SECONDS |
The reconstruction of abdominal wall defects remains one of the most challenging dilemmas facing surgeons. Congenital, acquired or post traumatic defects all present unique challenges to the reconstructive surgeon. A multitude of surgical techniques and mesh materials is available to improve outcomes in ventral hernia repair. Robotics has become a major component for both routine and complex inguinal and ventral hernia repairs. Even though ventral hernia repair remains one of the most common procedures performed, there is little consensus as to the best surgical technique, prosthetic material of choice, or strategies to repair complex defects.
THE AGENDA
View the Event Schedule
FACULTY
Meet the Speakers & Instructors
LEARNING OBJECTIVES
Address core & team competencies
HOTEL & TRAVEL
Travel and hotel booking information
12th Annual Hernia Surgery Summit Delivers Avalanche of Surgical Education
The 12th Annual Hernia Surgery Summit once again delivered on its reputation as a premier event for hernia surgery education. Presented by Columbia Comprehensive Hernia Center and hosted by CineMed, this meeting featured a faculty of 19 world-renowned hernia experts to present key opinions, case studies, tips and tricks from their own surgical technique, and a comfortable balance of both controversy and consensus in surgical approach.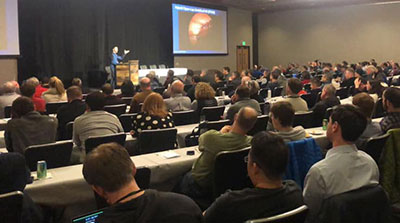 Participants were treated to 2½ days of learning focused on all aspects of hernia surgery, including patient optimization and preparation, techniques for both routine ventral hernia repairs and abdominal wall reconstructions, as well addressing challenges from a plastic surgery perspective. The inguinal hernia session featured amazing presentations on work-up of groin pain, technical nuances of mesh and non-mesh repairs, including Shouldice, TEP, eTEP, TAPP and more. All presentations included procedural videos and photos to illustrate details of the aforementioned techniques.
The expanding role of robotics in hernia surgery was also highlighted. Robotic approaches to hernia problems included presentations on robotic IPOM, rTAPP, rTAR, reTEP, and more. A favorite of the meeting was the new session on Morbidity and Mortality in which Drs Augenstein, Belyansky, Butler, Muysoms, Novitsky, Reinpold, Chen, Ballecer, and Pauli shared their experiences in dealing with their own complications. Participants came away with new ways to not only assess the patient's anatomy, but also new options to consider for the repair. Daniele Haupt, MD of UPMC Memorial Hospital said, "I appreciate the honesty in how cases are really performed and the different choices that are made amongst the speakers."
The audience was held rapt to the very last session of the last day when they were invited to Stump the Experts with their own case concerns, questions, and challenges to the information presented throughout the meeting.
To quote one participant, "A WHOLE HERNIA conference on practical knowledge!!!! Come on! Doesn't get better than this for a bread and butter surgeon!"
Plans are already underway for the 2022 meeting. If you would like to be included on the contact list to receive updates on the meeting, please contact Mary Panagrosso at CineMed.
Register for the Hernia Surgery Summit Online.